When you are ordering a sign for your business, you have a huge range of options to choose from. Which one you choose will be decided by your requirements and end goals, since each type of manufacturing has its own strengths and weaknesses. For example, moulded letters are perfect for creating a hardy, weather resistant 3D sign, while LED lettering can light up to catch the eye.
Laser cut signs provide a different set of advantages again compared to these other sign construction options. Using a high-powered, computer guided cutting laser, like the 2000 x 1200 Lasertech CO2 Water-Cooled Laser, your sign maker can cut designs and lettering with an incredible degree of precision and versatility. Laser cut metal signs can be made with very detailed engravings and cut-outs, and can be modelled to any specifications you may have, so if you are interested in laser engraving or laser cut signs, don't hesitate to bring your ideas to your sign maker – they will be able to help you make your idea a reality.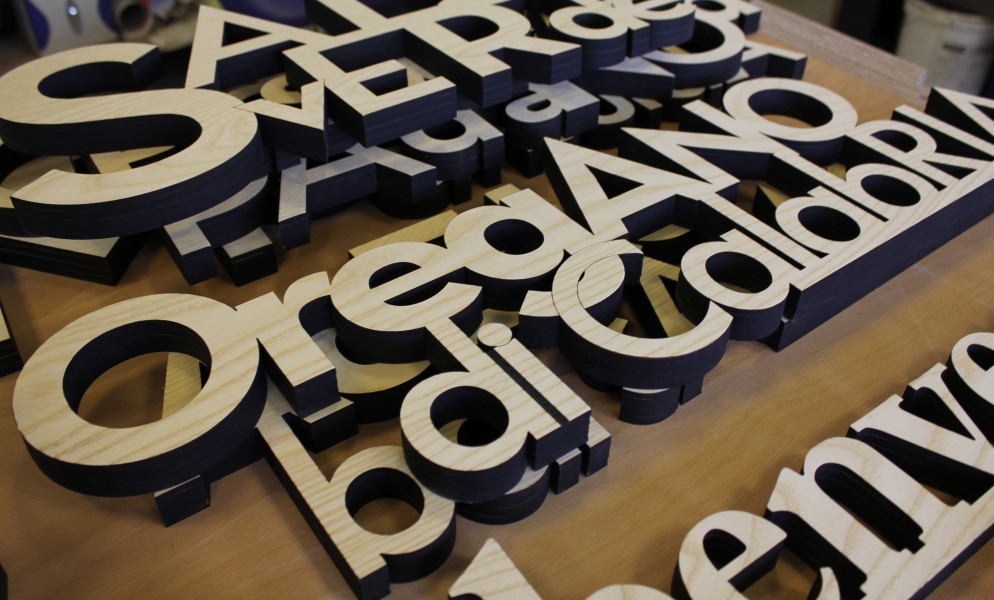 Laser cut signage is an excellent choice for those businesses and establishments that need detailed metal signage and intricate lettering made from metal, since laser cut metal signs can be sculpted very precisely with the aid of cutting software and complex engraving computer programs. Once cut, the metal will be a hardy, long-lasting signage material and will be visually striking, so for many, the investment in laser cut letters is a very cost-effective one. This very hardiness and durability is the reason why laser cutting is so popular for metal in the first place – alternative cutting methods are much more difficult, leading to less ability to cut accurately, the way a laser can.
Of course, it isn't just metal which can be cut with a laser. The likes of the Lasertech CO2 are able to cut acrylics with precision and accuracy, leaving a perfectly smooth, polished edge and accurately engrave them for maximum artistic variety. Where flat-cut lettering is required, the letters can be cut to almost any size, from tiny, intricate letters to massive, eye catching signage designed to capture your customer's attention from as far away as possible.
Custom logos are also possible with a laser cutter, no matter the template used or the uniqueness of the logo – once programmed into the cutting software, the laser will unerringly cut it out of acrylic, and with a choice of acrylics available – or even polymers or aluminium – allowing you to craft a logo in any colour combinations or materials you like!
Once the laser has been programmed with a specific pattern to cut, it can effortlessly and reliably repeat the process a number of times, making it easy to cut the same complex patterns as many times as you need them – say, for the logos and signage on a number of franchises or a large number of signs for a single large location.
With unmatched precision, accuracy and repeatability, a laser cutter can be used to create incredibly detailed, picture-perfect signage in metal, acrylic and other plastics, making it the perfect choice for your business, whatever it may be!